Sponsor a pet from poor rural communities
ROLDA is on a mission to help the pets from poor communities get the good life they deserve.
Here is a selection of dogs and cats that ROLDA currently helps.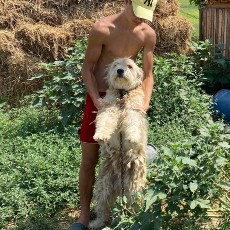 Ciury
Male, 10 years old
Additional needs for Ciury except packages: hair cut, doghouse
When we found out about Ciury, we instantly wanted to do something to improve his life. For years, he is living in a chain in a backyard where his job is to bark and protect.
Vali is the young man who provides him food and water daily. But there is so much to do to improve Ciury life. Since Vali remembers, Ciury was tied. His cover from bad weather is an empty metallic barrel but in the summer time, Ciury prefers to dig holes in the ground to cool because inside a barrel, it's like a sauna.
Beside sponsoring Ciury with one the packages mentioned on this page, you can help us buy him a large doghouse where to live better when it's raining or to hide from sun. Ciury would need a hair cut, too. The most important job is to convince his owners to release him from chain but this is difficult task at countryside, most of dogs are tied because of tradition and many other more practical reasons. It is sad and illegal and we at ROLDA created a campaign to raise awareness about how cruel is to keep a dog in chain.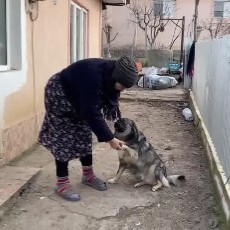 Dragos
Male, 3 years old
Dragos is the only companion Maria has. Compared with other pets from villages, Dragos doesn't live with a chain around his neck. Maria is a hard-working person, she is now 85 years old but in good shape...
And she works just as hard, selling milk (from her cow) in order to make some extra money because her pension is very small. All her life she worked to be able to raise her 3 sons, unfortunately tragedies came one after another, losing all her 3 sons when they were 35-45 years old, also losing her husband.
Dragos is a young dog that helps Maria feels less alone. You can see in this video that there is a connection between them. Dragos needs to be neutered, vaccinated and protected against parasites because it will be a tragedy for Maria to lose the only companion she still has around.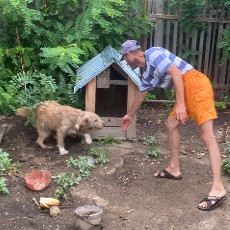 Rex
Male, 8 years old
Additional needs for Rex except packages: metallic bowls and a large metallic bucket for water
Neculai is a poor man living in M. Kogalniceanu village and Rex is his dog...
Even if 8 years old, Rex is in good shape, happy to see his owner which built for him from rest of construction materials a doghouse. Neculai share his food with Rex, the leftovers or buy 1 bread or even 2 just for the dog.
Even if it's distressful to see a hyper energetic dog like Rex in chain, this dog doesn't have the bad life that other dogs from villages have because in his way, Neculai is not mean. Lack of education and tradition makes people from village to keep their dogs in chain and not bring them inside because they have fleas and ticks (they have, because nobody buys a prevention treatment against these parasites).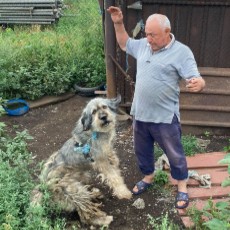 Papuc
Male, 4 years old
Additional needs for Papuc except packages: prevention treatment, sterilization, doghouse
Papuc is four years old. He has been Nea Dragan's pet dog since he was a puppy. Sadly, Papuc has been kept enchained in Nea Dragan's backyard most of his life.
Fortunately, Nea Dragan feeds Papuc home-cooked meals every day, but like most impoverished villagers, he cannot afford to vaccinate or sterilize Papuc or even get him heartworm and flea and tick prevention treatment. We are currently trying to raise funds to help Papuc, which includes getting him a doghouse so that Nea Dragan can take him off the chain. When my team and I visited Papuc, I noticed him barking to defend his garden (where some metallic things are deposited).
While Papuc looked in decent health, we would like to see him walking around free in his backyard (the only space he's ever known). In cases like these, I wonder whether a dog would be better off as a stray (because they can roam free), but then again, stray dogs struggle to eat and often die of malnutrition or starvation. We cannot force a pet owner to unchain his dog (unless it's considered abuse), so we always try to help them provide a better life for them. Nea Dragan is not a bad person. He is humble and shy, and he is willing to let us help him and Papuc. That is why we are asking for donations to vaccinate and sterilize Papuc and get him a doghouse to finally get those chains off him.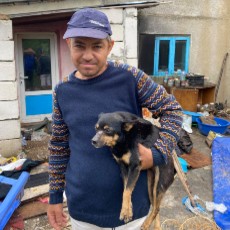 Madona
Female, 5 years old
Additional needs for Madona except packages: prevention treatment, sterilization, doghouse, food
Madona is a small, delicate pet of a shy and humble man named Dorin, who struggles to make ends meet each day...
After rescuing her from the streets, Dorin has grown very fond of Madona, but he cannot provide her with the special diet dog food she needs. Nor can he provide her with prevention treatment, such as vaccines, heartworm medication, and flea and tick spot-on solution. Our team members visited Dorin and Madona a few days ago after learning that Dorin rescued Madona. She is approximately five years old, and her health is fragile.
Thankfully, Dorin does not have Madona chained in his backyard, but his backyard is small and very cluttered, hardly leaving room for her to get any exercise. We are trying to help Dorin make room in his backyard for a small doghouse for Madona, but our priority is getting her vaccinated and sterilized, as well as getting her heartworm medication and flea and tick prevention treatment. We've managed to get her the dog food she needs, but only a month's supply.
Our principal goals are not too ambitious to be accomplished in a normal society, where animals are treated with respect, love, and care. Unfortunately, we don't live in an ideal world, and animals from villages live in sad conditions, their life often resumes to the length of the chain they are tied to until they die, to a filthy bowl never washed where sometimes the rest of meals are thrown. Dogs located in villages never go to medical checks, instead of being vaccinated have their nose burn with an incandescent metal object to be protected against distemper, are full of worms and fleas and when they get sick, they are disposed of at the edge of the road to die, even if they dedicated their entire life to protect, bark to strangers and be loyal.
It takes time to change people mentality but we can do something for these animals, TODAY, by:
– delivering them food, treatments;
– sterilizing them to stop making new pups;
– offering them a doghouse where they can have some protection against extreme weather.
In time, we hope to convince people to stop keeping dogs chained, to bring them inside (in a warehouse, if not inside their house) when it's freezing cold; to help them understand the importance of regular vet checks and also how vital is for a dog to have fresh, clean water. In rural areas, we have to start from zero, with basics notions and with patience, deliver more information for those who are receptive.
You can choose a gift package to support one (or more) of them. In case one dog gets multiple sponsors, the gifts will enable us to help more animals. For the moment, due to limited staff and logistics, we can present and provide updates for these dogs and cats. Our compassion and care can and will change their future.
Share with your friends and family: